Tigo
( number of products:

3

)
Tigo Energy
Founded in 2007, Tigo Energy is an innovative technology company based in California, specializing in the production of smart solar modules and energy management software. Their advanced products are aimed at optimizing energy production, increasing the efficiency and safety of photovoltaic systems.
The main product of Tigo Energy is the module of smart power electronics (MLPE), which enables monitoring, optimization, and management of the performance of solar panels. This technology is crucial for both domestic and commercial photovoltaic systems as it enables better utilization of solar energy and increases the overall efficiency of the system.
Tigo Energy is also the creator of the Tigo Access Point (TAP) platform, which allows wireless management and monitoring of photovoltaic systems, leading to greater flexibility and convenience for users.
The company is decidedly future-oriented, investing in research and development to stay at the forefront of progress in the renewable energy sector. Tigo Energy's mission is to create innovative, reliable, and scalable solutions that contribute to global change towards sustainable development and an eco-friendly lifestyle.
By prioritizing quality, innovation, and continuous improvement of its products and services, Tigo Energy maintains a strong position in the renewable energy market. Therefore, the company is an excellent choice for those seeking advanced photovoltaic technologies and energy management solutions.
1 898,66 €

/ pcs.

incl. VAT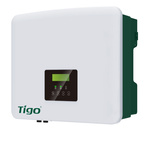 1 903,11 €

/ pcs.

incl. VAT

3 306,22 €

/ pcs.

incl. VAT